HELLO! :D
Will be holding a give away again!
This time is for my personal blog, not my online store! xD
So, here's a video on the sample products that i'll be giving away!
DISCLAIMER!!!!
i am NOT in any way responsible for the descriptions below. They are provided by their respective websites that have descriptions!
i am only sharing these samples for those whom wishes to try out different products.
I will NOT be responsible if you have skin irritation or something! xD
DESCRIPTION OF THE PRODUCTS
1. Etude House Nymph Aura Volumer in #1 Pure: Diamond Radiance, Excellent adhesion, moisturizing effect and nutrition supply.
2. Etude House Nymph Aura Volumer in #2 Brilliant: Aurora Radiance, Pearl and moisture radiance; glossy and shimmering skin effect.
3. Etude House Collagen Moistfull Enriched Cream: Oil + Water Mixture Base. Excellent Moisturizing and nutrition of Baobab tree seed oil and Collagen Moisturize and supply reiliance. Whipping cream-like Moisturizing Cream for skin lack of oil & moisture.
4. Etude House Be Clear Moisturizer SPF 30/PA++ : Mulberry extracts. Brightens and makes your skin silky smooth. Protects your skin from harmful UV rays.
5. Etude House Dress Room Sweet Look Body Wash: Dressing room wearing a dress from the Baby Doll seems sweet fruity perfume complex to feel the mood throughout the day contained a lasting perfume scent.
6. Etude House Goodbye Pore Ever Essence Primer: Moisturizing makeup primer masks pores to subdue sebum and improve makeup coverage.
7. Etude House Fresh Cherry Tint: Tint promotes moist and shiny cherry lips with a creamy, smooth texture.
8. Etude House Pomegranate Mask: Essence mask that contains a pomegranate additives that nourish for a healthy complexion. It has a tension fit design for improved adhesion and comfort.
9. The Face Shop FACE it Power Perfection BB Cream, SPF 37: A total skin treatment BB Cream reenergizing the skin through power lifting, power moisturization and power correcting effects. Wrinkle improvement + whitening + sunscreen... with an airy touch formula, it adheres in a thin layer as light as air yet flawlessly covers skin blemishes for a lustrous, healthy skin appearance.
10. InnisFree Camellia Essence Shampoo: Formulated with camellia from Jeju island. Provides moisture and nutrition for hair and scalp. Makes damaged hair elastic and healthy. No parabens, artificial pigments, mineral oil, animal ingredients.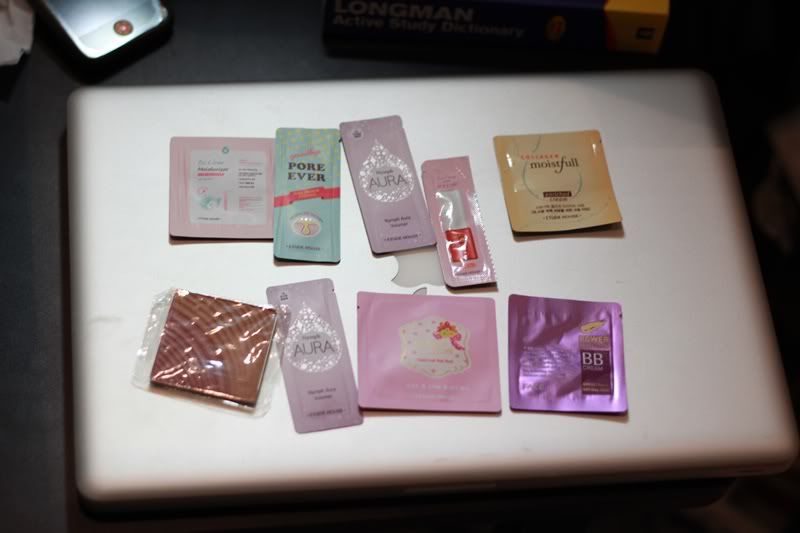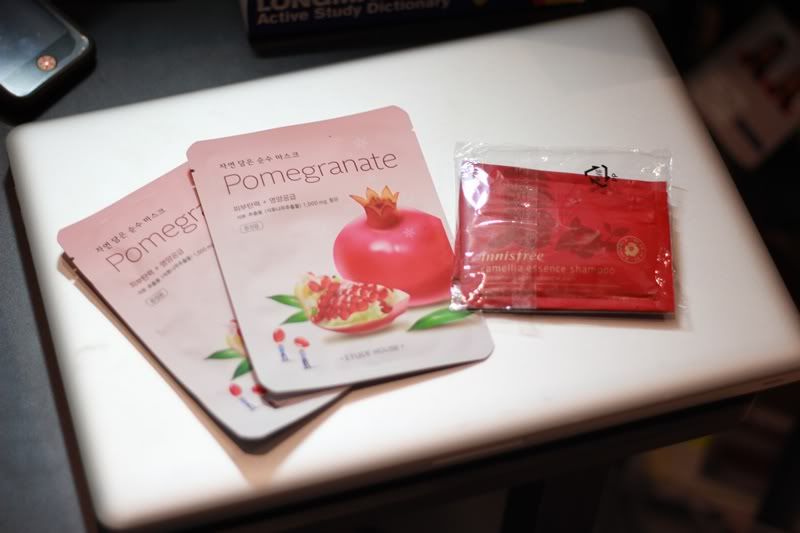 HOW TO JOIN THE GIVE AWAY
1. You HAVE TO be a friend of mine on Facebook
FACEBOOK (http://www.facebook.com/apandas)
OR
2. A follower of mine on Twitter
TWITTER (https://twitter.com/#!/ablackpanda)
3. Leave a comment for this blog post with the following format as a guideline.
Name:
Email:
Friend on FB or Follower on Twitter?/ name:
Any tutorial requests?:
Why you should win this give away:
Winners will be decided on the reason(s) you provided! :)
GIVE AWAY ENDING ON 13th APRIL 2012, 8PM
I WILL ANNOUNCE THE WINNER ON MY FACEBOOK & TWITTER ON 13th APRIL 2012, 11PM